Hey ladies! I hope all is well on those health journeys and if they're not then after this post it definitely will be. I wanted to spend sometime on the subject of salads. Everyone thinks salads are boring, simple, bland even but I think they are one of the most versatile meals you can ever have! Especially since, they're loaded with fiber, vitamins, and all the healthy necessities our bodies need.
Trust me, there's more out there to choose from besides Chicken Caesar and garden salads!
I'll be honest, I never liked salads. I would cringe at the thought of them but since starting my weight loss journey I've become completely addicted to them. I've learned how to mix it up, keep it fresh, and keep it new. If you have a bad history with salads please allow me to change your perception.
1. Spinach Greens, Quinoa, Grapefruit, and Advocado salad. (c/o:
Skinny Taste, Recipe Here
)
2. Caprese Salad: Lettuce, Mozzarella, Olive Oil and Tomatoes
3. Grilled Chicken, Tomatoes, Roasted Butternut Squash, String beans & Mixed Greens
4. Rainbow Salad: Grilled Chicken, Corn, Grilled Yellow & Red Peppers, Onions. Add a southwestern feel to a bland salad!
(c/o)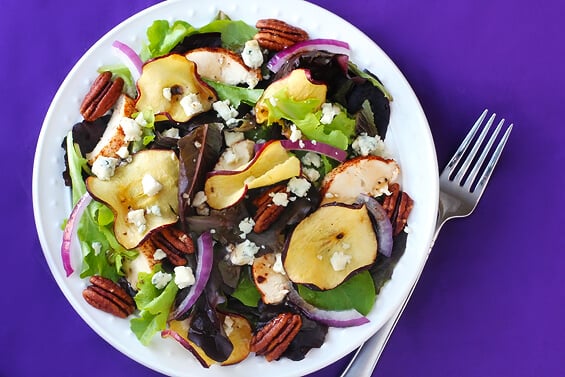 5. Apple Chicken Walnut Salad: Yes fruits & vegetables make a delicious combination (
c/o + recipe here
)
6. Spinach Strawberry Salad w/ Poppy Seed Dressing and Crushed Pistachios (c
/o + recipe here
)
7. Grilled Shrimp, sliced mango, lettuce, avocado, onions,and peanuts (
c/o + recipe here
)
8. Potato Salad: Baby Dutch Potatoes, feta cheese, green peas, radish, shallot, and artichoke. (
c/o + recipe
)
9. Mixed Berries Salad: Blackberries, raspberries, strawberries, blueberries lime, grilled chicken, walnuts
(c/o)
10. Chicory Tangerines, Onions, Pomegranate, and Mixed Greens
(c/o)
Which salad will you try next?
What's your favorite salad combo?