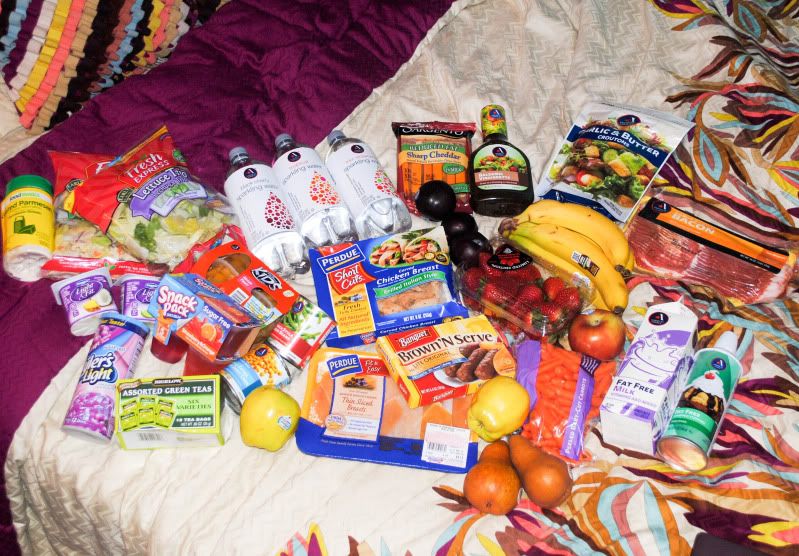 Last week I started detoxing or how others like to call it "eating clean." After experiencing a 5 month plateau, I figured my body had grown used to my normal food options, so I decided to shake up my menu! I researched a bit on detoxing and figured the more extreme juicing/fasting detoxes were not for me. I mean, I need substance people lol. So, I decided to incorporate healthy food options, low carb choices, and high protein in a way that wouldn't make me feel like I was starving and this is what I've come up with so far.
I invented a meal plan that allows me to eat all day while feeling full, energized, and satisfied. *Spoiler alert: I'll be sharing it with you all in my next post depending on how interested you are in learning more about it!*
Golden Apples
Pears
Plums
Bananas
Strawberries
Brown N' Serve Lite Original Sausage Links
Perdue Boneless Skinless Chicken Breast
Perdue Short Cuts Grilled Chicken Strips
Bacon
Veggies
Baby Carrots
Fresh Express Lettuce Trio Salad
Fresh Express Garden Salad
America's Choice Canned French Style String Beans
America's Choice Canned Whole Kernel Corn
Snack Pak Sugar Free Jello
America's Choice Mixed Fruit Cups in Light Syrup
America's Choice Garlic & Butter Croutons (for salad)
America's Choice Light Balsamic Vinegar Salad Dressing
Better Oats Strawberries & Cream Oatmeal with Flaxseed (not in picture)
Fat Free Milk
Sargento Reduced Fat Cheddar Cheese Stick
Danon Light & Fit Yogurt: Coconut Pineapple, Peach, Key Lime
Grated Parmesan Cheese (for salad)
Fat Free Chocolate Pudding (not in picture)
Fat Free Whipped Cream (for jello & pudding)
Drinks
Assorted Green Tea Bags
Sparkling Water
Wyler's Light Add to Water Powder Mix in Grape
GNC Mixed Fruit Whey Protein Powder (not in picture)
Interested in getting my detox menu meal plan?
Leave a comment and I'll be sure to share it next time!