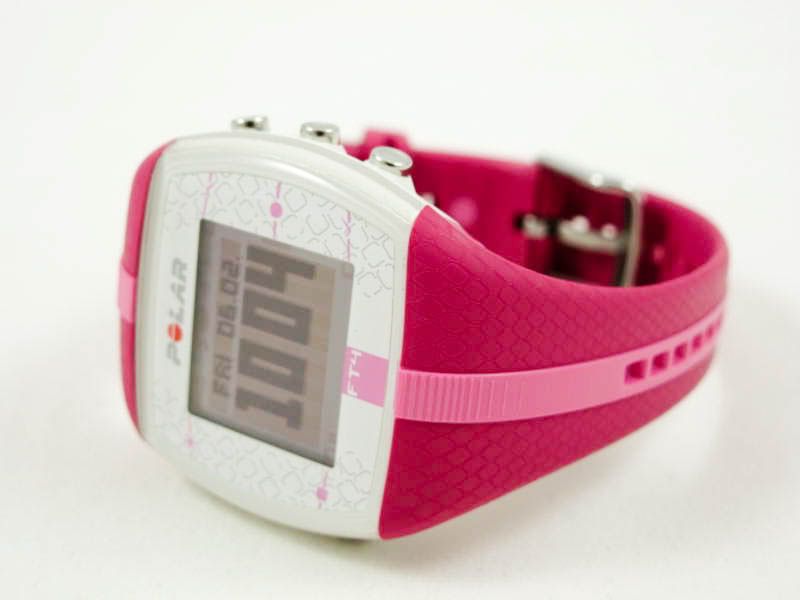 I am so excited to finally share my
Polar FT4 Heart Rate Monitor
review with you ladies! I purchased the Polar FT4 Heart Rate Monitor in Pink & I love it! It is a gym must have if you are serious about calorie calculations, increasing endurance, and the health of your heart. I highly recommend you fitspos purchase one.
Let's get into the review!
Measurement features
Automatic age-based target zone – bpm / %

Average and maximum heart rate of training

Heart rate – bpm / %

HR-based target zones with visual and audible alarm

HRmax (user set)

Manual target zone – bpm / %

Polar OwnCal® – calorie expenditure

Polar OwnCode® (5kHz) – coded transmission
Recording features
Training features
Graphical target zone indicator

HeartTouch – button-free operation of wrist unit
Watch features
Backlight

Date and weekday indicator

Display text in English and a crapload of other languages

Dual time zone

KeyLock

Low battery indicator

Time of day (12/24h) with alarm and snooze

User replaceable battery

Water resistant – 30m
Why I love this model:
Because
it is easy as hell to use
. It is not to complicated to set up at all it took all of maybe 10 minutes max to put in my settings. It is also light weight and not too heavy or bulky like other heart rate monitors I've seen.
It also comes in a cute color scheme that applies to me. I wear pink and other fun bright colors on the day to day so it blends in quite well. It
is also available in 3 other popping color schemes
. Talk about variety :)
The chest strap is wonderful
because it is adjustable, flexible, and very comfortable. When working out I forget that its even there and it isn't visible through my tops. The strap is also machine washable which is a plus because we all know sweat can smell a little funky after awhile!
The strap also works right away all you have to do is dampen the strap, so you don't have to wait until you are dripping with sweat to get a reading.
This heart rate monitor
automatically calculates your target heart rate zone
and it tells you if you are in or out of it immediately and there are 3 different viewing screens on the monitor #winning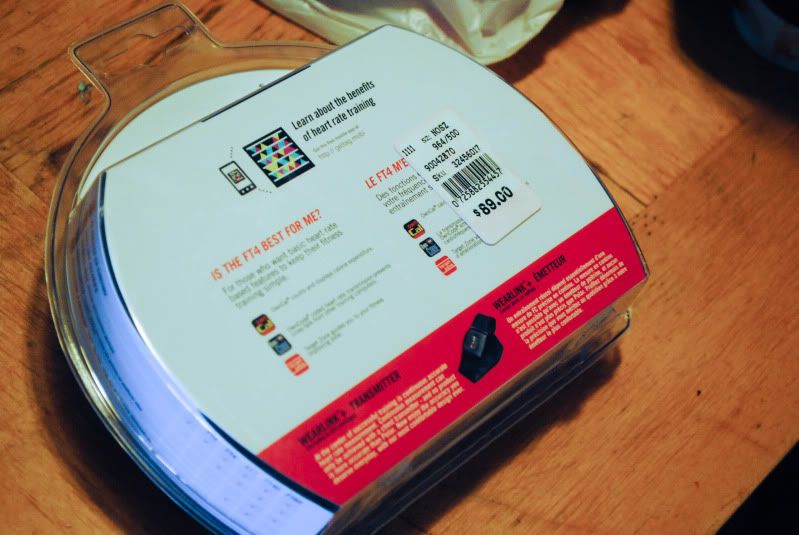 It is SO affordable
at $100 retail price but I got mine on sale at Sporting Goods for $89.00 and
Amazon
has them priced even cheaper then this!
In addition, the Polar brand has a phenomenal reputation of being high quality and very trust worthy
More Reasons to Love It:
It is easy to read, no blurry screen or anything
The calories burned according to the machine did not add up to the FT4 & it really opened my eyes to seeing that I've been burning a whole lot more calories than I ever ever thought!
I was skeptical of the readings at first, but on a high intensity workout and a low intensity workout I noticed that the calories burned added up to my energy level so I've quickly become a believer!
During bouncy exercises such as the elliptical or jumping rope it still kept a consistent reading #yay
It beeps every time your heart rate increases or decreases (which is annoying as hell) but guess what? You have the option of turning it off can I get a #woowoo
It's not too complicated or high tech. It honestly is a basic accurate heart rate monitor for beginners
What could be better?
The online tracking feature is a little misleading. It says you can track your data online which is in fact true. However, but you have to type it in manually which I'm okay with but other heart rate monitors automatically let you perform this without putting in data so some clarity would be appreciated from the jump!
P.S. It's advertised as Pink & Purple but it is in fact very PINK, just a heads up!
Other than that I am quite content with this product :)
Rating: 5 out of 5
Overall, this heart rate monitor is a great tool to accompany all physical activities. If you don't need a GPS, complicated programming, or a high price tag then this item is for you! It is phenomenal and reliable, trust me!
Do you own a heart rate monitor?